The 22nd Edition of South India's Largest Garment Fair
Every industry needs a strong bonding between its stakeholders, and for this a vibrant platform is required to create and maintain the bonding at all the times and levels.
Chennai Apparel Association (CAA) feels proud to be the creators of such a bonding between suppliers and retailers since 2006. The organising committees of CAA for the last 15 years, along with ever growing member strength, (500+ on date) has been breaking all records in terms of  participants, retailer foot falls, and business volumes in its B2B expos. The trend will continue in the upcoming 22nd edition and beyond.
Once things normalise post pandemic restrictions, CAA plans to spread its wings and create pan India platforms for its members and followed up by international expos.
CAA committee is also in sync with the MSME unit of government an planning to support the members and participants at the expo to avail facilities and benefits provided by MSME sector for the growth of apparel industry. An interactive session with concerned officials regarding MSME benefits, GST, credit facilities etc. will also be conducted soon.
As you all know that CAA has already purchased property for its permanent office. With all your strong support CAA will move into its very own newly built office very soon.
As a strong association, CSR (Corporate Social Responsibilities) activity had been of prime importance in the past and more so in the future as well and whenever needed and viable.
As we members come together for business related platforms, we are also passionate for joining ourselves in sportz activities and foreign tours, there by re-energise and bounce back with more vigour and enthusiasm.
Opportunities for Your Brand's Exposure
Inviting the retailers to grace the expo used to be a great challenge in the initial years, but now even the retailers wait for the CAAdates to be announced so that they can plan their schedule to visit the fair to order the latest in Fashion World. Innovation and out of the Box ideas are always the benchmark of CAA. This time road shows are being planned by CAA at prominent towns, such as Tirunelveli, Thanjavur, Pondy, Salem and Coimbatore. CAAwill host a dinner party at the designated towns and invite the retailers for the March 9-11 event. Retailers will register themselves at the road shows and CAA will confirm their stay in Chennai during the Fair. Best part is that CAA will also invite participants to road shows so that they will have a change of one to one intro with retailers.
Other activities of invitation cards, social media promotion, personalised invitation Cards, media promotion & electronic media activities will be done in a more unique manner.
Don't Relax! Check out the application form and other forms enclosed and send your confirmation to the concerned person mentioned in the respective forms.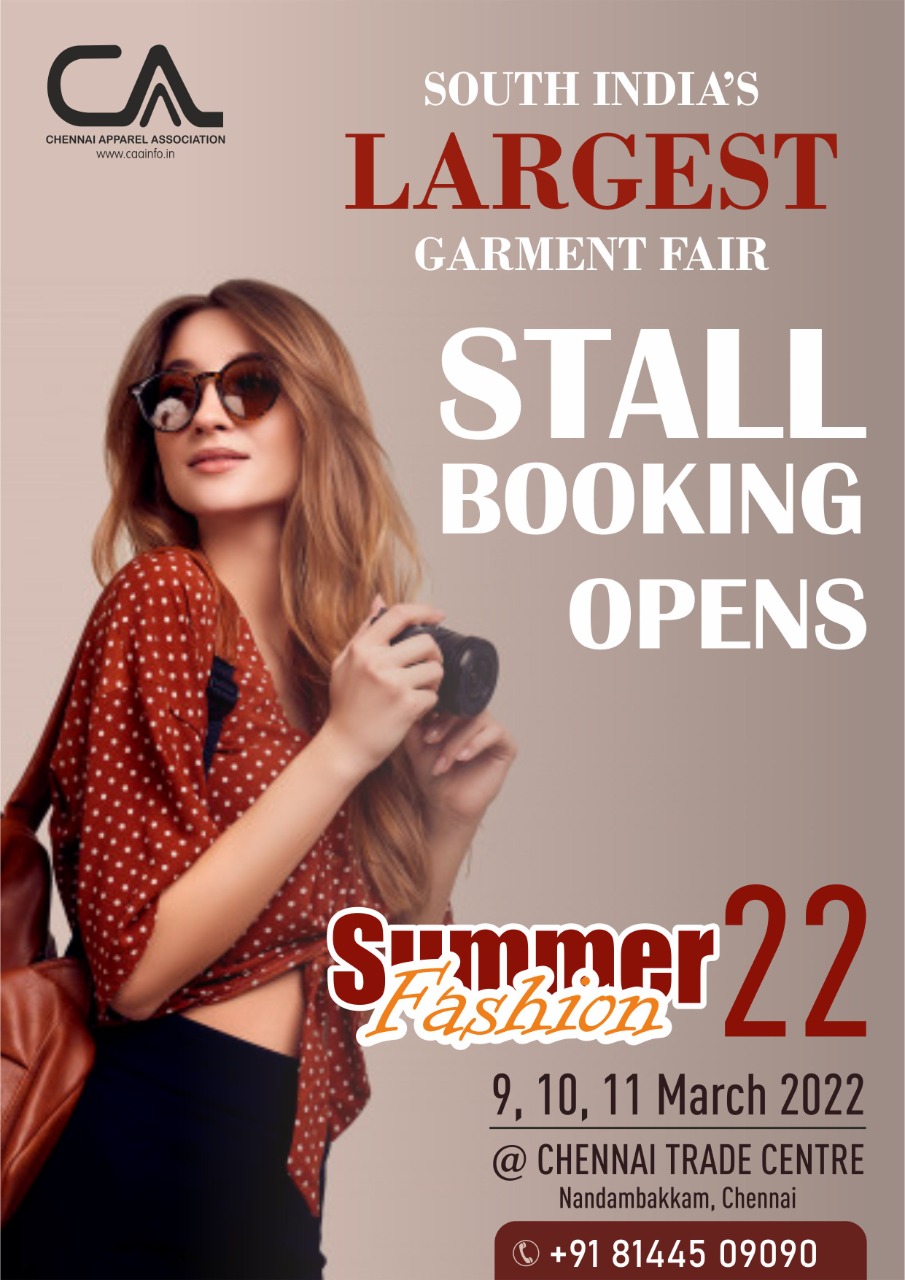 Chennai Apparel Association (CAA) is once again coming up with the BIGGEST Garment Fair of South India covering a whopping 1,15,000 sq.ft. (hall 1/2/3) with 225 stalls and 400 Brands. This huge participation will certainly be a bounce back activity from the tough pandemic times.